Fireplace Brands
MONESSEN
EMPIRE


Vent-Free Gas Fireplaces
MONESSEN
EMPIRE
Vent- Free Gas Logs
MONESSEN
EMPIRE
Gas Fireplace Inserts
MONESSEN
See Thru and Peninsula
Vent-Free Gas Fireplaces
MONESSEN
EMPIRE
Electric Fireplaces
CLASSIC FLAME


Direct-vent
Gas Fireplaces
MONESSEN
SEE-THROUGH - M
EMPIRE
SEE-THROUGH - E
Cast Iron Vent-Free
Stoves
EMPIRE
MONESSEN
Outside Patio Fireplaces
NAPOLEON
MONESSEN

Fireplace accessories
SOUNDS AND SCENTS

Is Vent-Free SAFE?
LET'S CLEAR THE AIR
Free Freight on Fireplaces and Stoves shipped within the Continental United States
excluding only CA, WA, OR, MT, WY, CO, NM, AZ, UT, ID, NV, and parts of NY and MA.
These excluded areas will carry a $100.00 surcharge.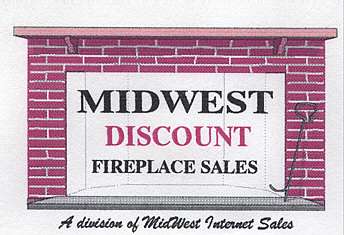 GUARANTEED LOWEST PRICES
on the "WEB"
We will price match any competitor's
published price plus give a free $10.00 gift from our
"Sounds and Scents" page.


Having been in the Fireplace business for over 30 years, we at Midwest have seen many fireplace innovations and fads come and go, but until recently, with the advent of Vent Free, and Direct Vent technology, we were never able to tell our Customers, (with a straight face) that our fireplaces could actually "PAY FOR THEMSELVES". Think about it! These vent free appliances are 99.9% efficient in contrast to most central heating systems, which are about 65 to 70% efficient. A 40,000 btu Vent Free gas log can supply enough heat for up to a 1500 sq. feet area, and by the way, unlike most central heating systems, will continue to work in a power outage! When your vent free gas log is producing heat, your central system doesn't have to. Simple Mathematics tell you, with proper use of your vent free fireplace, you can achieve a 30% or more reduction in your gas consumption!
On the following pages you will be able to view some of the Industry leaders of Vent Free and Direct Vent technology, and related items. We don't stop with just the Seeing and Feeling. We add Hearing and Smelling also. (see sounds and scents). Shop prices......and you will see why "Midwest" is the leader of the pack in Vent Free and Direct Vent Fireplace and Gas Logs sales. If you are interested in other products manufactured by the companies you see represented on our Web pages, click on Submit Request
Midwest Discount Fireplace Sales is a division of Midwest Internet Sales. Be sure to visit our other Divisions;
"CEDAR TREE GREENHOUSES" --- RAIN BARRELS--- BARREL PLANTERS--- PATIO BARREL GARDENS and ST. JOSEPH'S HOME SALES KITS
To Order Call Toll Free:
1-877-676-6627 or 1-877-888-5609
For additional information
or to have a brochure e-mailed to you click below
Submit Request