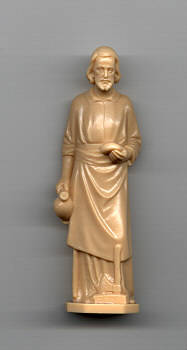 We ABSOLUTELY do NOT use, sell or share your personal information with anyone for any reason!!!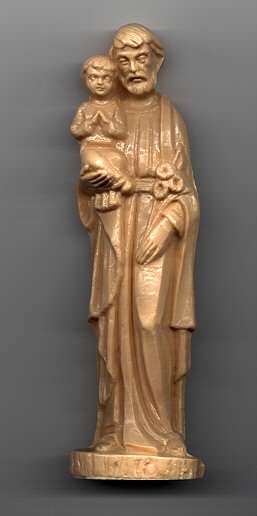 IF YOU ORDER YOUR KIT TODAY by
11:00 AM CST
IT WILL SHIP by United States Postal Service, First Class Mail TODAY


Kits can be shipped by Priority Mail for an additional $5.80. The Postal Service says priority mail should be delivered in 2 to 3 days. If you want your order shipped Priority Mail, please say so in the remarks section of the order Form.
Saint Joseph Statue "ASK, AND YOU SHALL RECEIVE". Is your Home possibly "a Little Too Unique" to appeal to the Average Family? Are you thinking that you might need "a little outside help" in selling it. Well... have we got the guy for you! There are more than 5000 Patron Saints listed in the Dictionary of Saints, chosen as protectors over different areas of life. The Good SAINT JOSEPH, was chosen as Patron Saint of the Home and Family. Folklore says that if you bury a Statue of Saint Joseph on your Property, and ask St Joseph, to intercede with his Foster Son Jesus on your behalf, it will facilitate the sale of your Home. FACT? FICTION? Who really knows? The tradition can be traced back hundreds of years to Theresa of Avila, who prayed to St Joseph for more land for Christian Converts, and encouraged Nuns to bury St Joseph Medals in the ground as a symbol of their devotion. Thousands of Testimonials seem to say, "IT DOES WORK".
If you ORDER YOUR KIT TODAY before 11:00 AM CST
it will ship United States Postal Service, First Class Mail TODAY
ST JOSEPH'S HOME SALE KIT
Professed to work for all Faiths and Denominations

Kit Includes:
3 1/2" St Joseph Statue, Special Prayer Card, Burial Bag,
Testimonial scroll and Instructions

Total price: $9.95

Also Available: LARGE Kit
In the Large kit you will receive the regular $6.44 kit, plus you will also receive a Six inch statue of St Joseph and the Baby Jesus to set in a place of honor in your home while it is on the Market.
Total Price: $14.95

See to LEFT

"SHIPS First Class Mail TODAY"
if ordered by 11:00 AM CST
Orders received Saturday and Sunday will ship first thing Monday morning
To Order Online thru our Secure Server
click "Order Now" Below!




If you would rather order by Phone
Call Toll Free:
1-877-676-6627 or 1-877-888-5609

MASTERCARD--VISA--DISCOVER-- AMERICAN EXPRESS